Angel Pig
Angel Pig in Animated series!

Some attributes

First
He is King Pig's sun
Second
He died in a battle to take the eggs
Third
He helps the Angry Birds

Other attributes
Angel Pig is an alie in Angry Birds Epic: Daily Life. He also arears as an alie in Angry Birds Epic: Animation Series.
A note...
Edit
He is the final boss in the Angry Birds Epic: Angel Pig's revenge, the second game of the Angry Birds Epic: ....'s Revenge game series.
Daily Life info
Edit
Angel Pig is obtained after beating
Kingarang
and
Mystery Pig
's helper (In level 200 of
Journalist Parkour Area
). He is a mighty helper of the birds and can heal birds easily.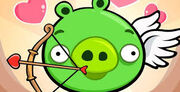 Daily Life Classes
Edit
BirdhelperEdit
Birdhelper is the first class of Angel Pig.
Snack Attack: Deals 30 damage. Target is stunned for 2 turns.
Health Help: All birds take 60 damage every two turns.
90 degrees: Rage Chilli. All birds take +140 damage.
Community content is available under
CC-BY-SA
unless otherwise noted.