Big Bork aka Fat Pig is a pig in ABEMR. He appears as a normal pig in ABEMR.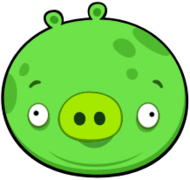 Games He Appeared On
Edit
Big Bork appears as a normal pig in this game. He deals a lot of damage to birds. His first appearance is on Hog City Castle.
Fat Pummel

Deals n damage to a bird 5 times. The targeted bird will be stunned for 2 turns. Charge 2 turns.
Fatness

Attacks lower than 1245 will be ignored.
Big Bork appeared in the ABEMR Animated Series. He protected the Hog City Castle in an episode.
Personality
Edit
First Appearance
Edit
TBA
Last Appearance
Edit
TBA