Darth Vader Islands - 1 is the first level of Darth Vader Islands.
Cutscenes
Edit
Monty goes away of the Big Cakes Castle and gives the Jedi Egg to Darth Vader. Monty goes to the School Castle. The birds got angry.
Difficulty
Edit
4. Medium
There is only one pig but the pig has high health.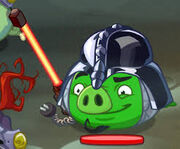 | | |
| --- | --- |
| | Health |
Lightsaber Slash

Deals 364 damage to a bird.
Ironclad

Ignores damage less than 392.
Strategy
Edit
Strategy 1
Edit
Required Birds and Pig Allies : Red as Stone Guard, King Pig as Silver King and Chuck as Aqua Mage
Use Stone Guard to damage the Darth Knight. Use Chuck's Tsunami ability to lessen the attack power of the pig and to damage the pig. Attack the pig using King Pig. After the pig attack, do the same thing again and again until you defeated the Darth Knight.
Monty's Revenge Levels (Jedi Egg)
Darth Vader Islands
Darth Vader's Base
Darth Hills
Sith Lands
Vader Hills
Special Levels
Key: Blue = Normal Battle; Green = Wave Battle; Red = Castle; Black = Dungeon; Purple = Special Level