Flashlight Pigs are pigs with a flashlight. They come together with a
Miner Pig
.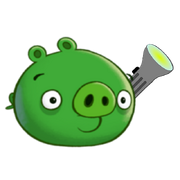 302

Shock - Deals 219 damage to a bird.

Flashing Light - Heals all pigs by 100 health.

I Can't See - Calls 2 Miner Pigs.
This is one of the pigs that is all of its powers are new.
This page is made by Bad Piggy 9000. You can edit this page but don't spam it.