My Throne is the very first episode of the Angry Birds Epic: Monty's Revenge Animation Series.
My Throne! (Click to zoom)
Episode number
1
Air Date
4/6/2015
Created by
Bad Piggy 9000
Game About
Angry Birds Epic Monty's Revenge
Birds
N/A
Pigs
Monty, Minion Pig, Helmet, King Pig
Previous
Next
N/A
Through the Dark Prison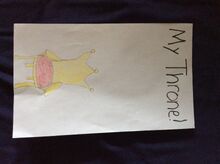 Toons.Tv Description
Edit
Oink! These pigs are getting worse. But why is there no birds?
Monty lets his minion get King Pig's crown. When he got his crown he stole King Pig's Throne! The King, Prince, Piggianna Jones and the Friendly Minion tried to stop Monty's plan but they failed because they are captured!
Later the Cactus Knight commands the Cactus Pigs to destroy the birds and steal all their stuff.
At the King's palace , Monty steals the King's crown and ruled all Bad Piggies.
Later Piggy Mc Cool spied Monty. He saw what he had done. He walked and passed a lot of pigs. They captured him and put him in the Pig Prison.
Characters
Edit
Monty
Minion Pigs
Helmet
King Pig
Prince Porky
Piggianna Jones
Cactus Knight
Cactus Pigs
Piggy Mc Cool
Big Pig
There are no errors in this episode.
It is the very first episode with no birds on it!
This page is made by Bad Piggy 9000. You can edit this page but don't spam it.